THE EUROPEAN WUSHU GRADING SYSTEM (EWGS)
​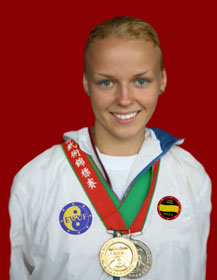 In order to increase the technical level of wushu practicioners in Europe, the EWUF Congress voted in 2010 to implement the European Wushu Grading System (EWGS).
The EWGS is based on the CWGS (Chinese Wushu Grading System – 中国武术段位制) developed by the Wushu Research Institute of China with minor exceptions. Among them the EWGS allows European athletes to pass the exams on SANDA (this does not exist in the CWGS).
The EWGS allows you to apply for the examination in two ways:
The easiest is to prepare for the grading examination using the teaching materials for the standard grading forms (段位套路) of the CWGS. Those materials can be easily found in the teaching books or on Youtube.
The alternative way is to prepare for the grading with other forms (for a lot of wushu styles standard grading forms do not exist yet). If you want to pass the examination with your own routine, do not forget that you have to perform the single routine (单练套路) and the application of Martial Techniques (对打/拆招). This requirement allows the assessors to see the degree of your understanding of the functions of the mouvements that you perform – wushu is a martial art!
For those who have a duan grade of the Chinese Wushu Association, the EWUF recognizes it and issues a corresponding EWGS duan only if the video of the examination is provided.
All EWGS duans are registered in the EWGS Duanwei register, together with the video file of every examination.
The EWGS awards the duans for technical skills starting from 1st up to the 6th duan (starting level and intermediate level). Higher level duans are awarded for the contribution for wushu development in Europe, upon a recommendation from the EWUF TC or EC. The EWUF EB may, at its discretion, approve the award of honorary duan of lower level for the same purpose.
You can find the requirements for EWGS grading here.
You can download the grading application form here.